Most popular posts
Other sites we recommend
Monthly Archives: February 2023
February 23, 2023
By:  Lauren Coffey – TBBJ & Inno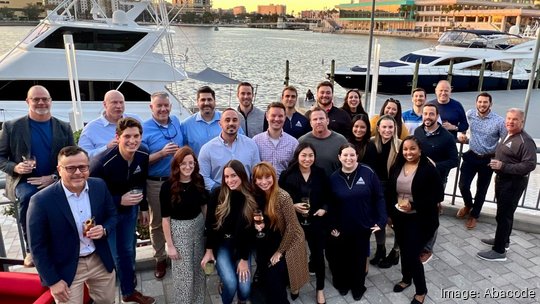 A Tampa cybersecurity company has bulked up its C-suite after closing $9 million last year.
Abacode, a cybersecurity and compliance firm, has hired Anil Markose as its chief strategy officer. Markose is a former executive at Amazon Web Services, where he served as global head of AWS' security compliance.
"[Markose's] global visibility, knowledge and experience will bring additional strength to our fast-growing team," said Michael Ferris, Abacode CEO, in a statement. "Having 'sat in the seat' as a cybersecurity compliance leader, he has a firsthand perspective of our clients' pain points. Anil joining our team is not only going to be an internal win but an even greater win for Abacode clients and partners."
The hiring follows a $9 million raise for the company, according to Ferris, which he said was a mix of debt and equity.
The company's previous funding was a $4.9 million Series A raise in January 2022, led by Ballast Point Ventures. Sean Barkman, Ballast Point's partner, was listed as a "director" for Abacode in the latest SEC filing.
"The Abacode team has made great progress growing its customer base, service offering, and organization during the company's short history," Barkman said in a previous statement.
The funding and hire is the latest win for a slew of Tampa Bay cybersecurity companies. In February alone, Boston-based Rapid7 and Virginia-based Ridgeline International offices in Tampa, and local cyber company Deepwatch closed a $180 million round.
February 9, 2023
By:  Paul Stevens, Short Term Rentalz
US: sojo, which describes itself as the vacation rental industry's first automated amenity platform, has raised $6.2 million in a Series A funding round.
The round was led by later-stage venture capital and growth equity fund, Ballast Point Ventures, and Key Data Dashboard CEO Jason Sprenkle.
The new funding will be used to invest in technology and personnel to support sojo's dynamic solution that leverages reservation data and guest preferences to automatically ship the best-fit amenities, gifts, and more for each guest's stay.
Offering 'amenities on autopilot', sojo was founded to remove the headache of ordering, storing and coordinating supplies by automating turnover operations. sojo provides property managers with the ability to connect reservation calendars to its platform to automate the delivery of bathroom amenities, laundry products, kitchen amenities, pantry stock, maintenance items and even guest gifts.
Property managers can choose from a catalogue of quality, eco-friendly products designed with guests in mind, and have the option to customise and private-label product packaging for a "one-of-a-kind" guest experience.
Max Farley, founder and CEO of sojo, said: "Whether you manage five or 5,000 vacation homes, sojo is designed to make life easier. Gone are the days of shipping products to your office, hiring staff to manage the kitting and fulfilment process, and dealing with errors and inconsistencies at every turn.
"There's a growing demand for this type of support in the vacation rental space and this partnership with Ballast Point will allow us to build out technology that best serves our customers. We're very excited to have their support," he added.
Robert Faber, partner at Ballast Point Ventures, who will join the sojo board of directors, said: "As BPV has gotten to know Max, we have been very impressed with the growth and success that sojo has been able to achieve at a rapid pace – there is a clear need for the company's dynamic solution in the space. Given our focus on partnering with rapidly growing private companies in the south-east and Texas, and our prior investment and experience within the short-term rental market, sojo is a great fit for us.
"We are excited to partner with Max and the entire sojo team to drive continued growth," he added.
The latest raise takes sojo's total funding to date to more than $11 million, following a $5 million seed round led by a private investor in March 2021.