Author Archives: admin
September 12, 2019
Last month – August 30 – brought us National Slinky Day.  We did not know the classic toy had its own day, nor were we aware that it was another one of those happy accidents often at the heart of entrepreneurial origin stories.
From Smithsonian Magazine:
In 1943, mechanical engineer Richard James was designing a device that the Navy could use to secure equipment and shipments on ships while they rocked at sea. As the story goes, he dropped the coiled wires he was tinkering with on the ground and watched them tumble end-over-end across the floor.
After dropping the coil, he could have gotten up, frustrated, and chased after it without a second thought. But he—as inventors often do—had a second thought: perhaps this would make a good toy. A lot of inventors talk about keeping an open mind and maintaining playful habits, explains Monica Smith, the head of exhibitions at Smithsonian's Lemelson Center for the Study of Invention and Innovation.
"The Slinky was something that he saw happen and he thought it was cool. It wasn't an obvious idea for a toy," she says. "It wasn't something he was setting out for—it's more serendipitous than that. He kept an open mind and found a different use for it."
The author's description of serendipity reminds us something we once wrote: entrepreneurial genius is often a matter of seeing meaningful combinations where others do not.
Corporate managers believe that to the extent they can predict the future, they can control it. Entrepreneurs believe that to the extent they can control the future, they don't need to predict it.  Entrepreneurs thrive on contingency. The best ones improvise their way to an outcome that in retrospect feels ordained…
Thriving on contingency, outcomes that feel ordained… some could argue this conflates luck and skill.  Napoleon famously (and apocryphally) was said to prefer lucky generals over clever ones.  (He was reliably quoted on the subject thusly: "A bold general may be lucky but no general can be lucky unless he is bold.")
Recent research, this time from Harvard Business School, emphasizes the importance of serendipity as opposed to simple luck.  In  Make Serendipity Work For You  authors Mark de Rond, Adrian Moorhouse, and Matt Rogan recount an old tale about three princes from Serendip and their skills of observation and problem-solving:
The princes did far more than make chance observations. The tale is instructive because the princes relied on their ability to recombine a series of casual observations into something meaningful. And it is just this combinatorial skill — the ability to combine events or observations in meaningful ways — that differentiates serendipity from luck. Serendipity is to see meaningful combinations where others do not.
Richard James saw that "something meaningful" and used his engineering expertise to work out the ideal dimensions for the spring – 80 feet of wire into a two-inch spiral. (The exact mathematical equation for the slinky can be found in his patent materials.)
However – the true entrepreneurial mastermind and hero of the story is his wife Betty.  In addition to coming up with the name of the toy, she built the business under the most difficult of circumstances:
He [Richard] left his family in 1960 to join a religious cult in Bolivia and died there in 1974. He left behind six children between the ages of 2 and 18 and a business in shambles… Using a mortgage taken out on her house, James "gambled everything she had" and went to a New York toy show in 1963.
That was the same year the classic toy's catchy jingle aired on television for the first time.
"The reason everyone knows the jingle," her son told the Philadelphia Inquirer, "is that we were too broke to buy a new one. We burned it into the mentality of the country."
It is indeed a long journey from idea to viable business. Even if you change the world it can take years to succeed and get noticed.
One last fun fact about how innovation can spark more innovation:
During the Vietnam War, soldiers would sometimes use a Slinky as a portable, extendable antenna for their radios, fastening one end to themselves and tossing the other end over a tree branch to get a clear signal.
August 22, 2019
One of our most-read posts here at NVSE is The Fate of Control (December 2009).  In it we cite a phrase coined by Fred Wilson's at AVC – "shtick tolerance" – as a key to any successful long term relationship.  As we blogged in that decade-ago December:
You don't have to accept everything about your partner – outside of integrity/honesty – but you must be able to more or less tune some things out over the long haul.  You're patient with their shtick because they're patient with yours.  It's hard work.
Fred is back with another outstanding post, once again on the subject of long term relationships. Here's an excerpt from The Long Engagement:
What I would prefer to see, and do see in many cases, is a founder who takes the time while they are not raising money to build a number of relationships with potential investors and then engages those investors in a process when it is time to raise capital. I like to call this process the "long engagement".
It might sound like a lot more work than the fast and furious fundraising process that many founders are running these days.
But I don't think it is a lot more work. Building relationships over a six to twelve month period can take the form of an occasional face to face meeting, emails back and forth, and even a few visits to the office by the investor. And none of that has to have the pressure of a pitch, an ask, and a price.
We think Fred is spot on. In most cases our relationship with an entrepreneur starts early – months or even years in advance of an investment. Ideally everyone involved has sufficient time and opportunity to explore the fit and potential of the chemistry that will prove crucial to success. Here's how we put it in a March 2013 post, Due diligence: mine, yours, and ours:
Entrepreneurs who are raising growth capital (i.e. bringing on a long term partner) as opposed to selling their businesses (i.e. get the best valuation) should invest a lot of time conducting due diligence on their prospective financial partner. A credible partner will let you (indeed, encourage you) to talk to as many of their previous entrepreneur partners as you want to get a feel for what they are like to work with.
Entrepreneurs should ask for references from successful investments, unsuccessful investments and current investments. Ask for the venture firm's entire list of previous and current investments and randomly call a number of them. Find some independent sources on your own who weren't provided as references but know the venture firm…
Establish a solid foundation for the relationship early: Will you share the same vision? Agree on ground rules?
Once the honeymoon is over, will you collectively put forth the constant effort required to sustain the relationship? How will you resolve conflict? Are communications open and largely free of clashing egos? Does the quality of the arguments make the outcomes better?
May 30, 2019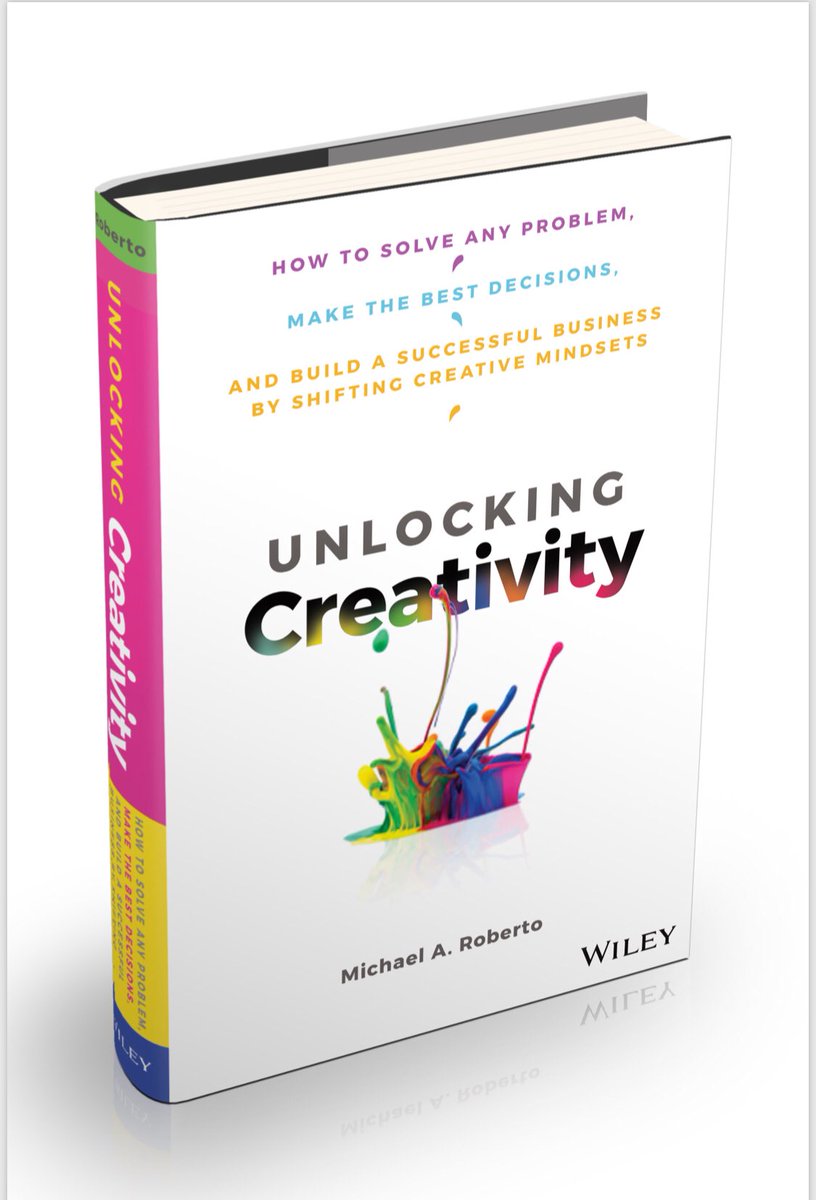 The latest addition to The Library in St. Pete is Unlocking Creativity – How to Solve Any Problem and Make the Best Decisions by Shifting Creative Mindsets, authored by Michael Roberto. As his interview in Forbes magazine explains, creativity doesn't typically come from the lack of ideas, but from barriers in organizations that stifle creative thinking.
This is the 3rd of Professor Roberto's books to join our library, and the first one for which you can find both a brief introduction and a trailer for the book at Youtube.
From among the many terrific insights in the book, we'd like to highlight two:
1 – Shaping team climate is more important than an "obsession" with reorganizations (p. 94-98).  
(H)e presumed that organizational structure drives performance, as many business leaders do. Unfortunately, that causal link is much more complex than many executives realize, as the studies of mountain climbers and sports teams illustrate. Leaders can adopt a variety of organizational structures, and each comes with its own costs and benefits. We cannot simply crank up an algorithm and select an optimal structure that promotes creativity, innovation, and growth. No such perfect structure exists, no matter the strategy, industry, or circumstances…
Leaders need to think about how teams perform their work, and how they can create the conditions that will enable those groups to flourish. The best leaders pay close attention to team climate, behavioral norms and ground rules, and the design of the work itself…
Julia Rozovsky's People Analytics team collected data on 180 teams throughout Google.  She explains what they discovered:
"We thought that building a perfect team would be pretty algorithmic in nature, because at Google, we love our algorithms.  [However] What our research showed us was that it's less about who is on the team and more about how people interact that really makes the difference."
Google identified five attributes of their highest-performing teams, and "a climate of psychological safety proves to be the most important by far."
We could not agree more. As we ourselves have written, systems and processes are important but what makes a team great are the 'robust social systems' in which the members' informal modus operandi ensure that all those well-designed systems function properly.
2 – It can take time for creativity to pay dividends (p. 172).
Remember, though, that many creative breakthroughs occur when individuals make connections between seemingly disparate concepts. Those links and relationship s may not become apparent overnight. Sometimes, it seems as though these breakthroughs are simply the product of luck. On the contrary, Harvard scholar Ethan Zuckerman argues that, "Engineering serendipity is this idea that we can help people come across unexpected but helpful connections at a better than random rate."
Here too, we are in agreement, having echoed this line of thought many times. The difference between luck and serendipity is that the latter involves seeing meaningful combinations where others do not and is a skill one can develop. 
Some organizations are "luckier" than others because they tolerate an optimal degree of wastefulness based on the assumption that serendipity relies on loafing and savoring the moment, of wandering and loitering and directionless activity of all sorts. Serendipity is a close relative of creativity and can be encouraged by a few organizational factors.
Lest anyone think we've given too much aid and comfort to sloth, inefficiency, and other bad habits, we'll close with Gary Player's thoughts on the subject:  "The harder I work, the luckier I get."
***
NB:  We'd like to thank the good professor for comparing venture capitalists to Soviet planners (p.80). We've actually known and admired Professor Roberto for a long time, and in fairness to him, he is merely quoting an entrepreneur.  (Ahem, while not objecting…)
Here are a few other instances where we've cited the professor's thinking here at Navigating Venture:
April 18, 2019
The individual income tax-rate cuts of the 1980s helped make LLCs the default business structure for startups – but the 2017 reduction in corporate tax rates, coupled with the capital gains tax rate increases in the 2010s, have changed the dynamic.  
As last week's Wall Street Journal explains in "Startups Discover the Allure of the C Corporation," in some circumstances the 'C' structure creates potential tax benefits for entrepreneurs and their investors:  
For years, Mr. Bisges started ventures using limited-liability companies, known for their flexibility and tax advantages. But when Mr. Bisges and his nephew, Aaron, started planning StillFire Brewing, their accountant suggested the C corporation.
Mr. Bisges is pinning this part of his business plan on Section 1202 of the Internal Revenue Code, an underused provision expanded under Mr. Obama, and one that is gaining new attention after the 2017 Tax Cuts and Jobs Act made it more attractive.
The strategy is particularly advantageous for business founders who expect to start small, keep earnings inside the company, make annual profits and then cash out. If a taxpayer holds C corporation stock for five years and follows the technical rules, capital-gains taxes on a subsequent sale get erased—on gains up to $10 million or 10 times the original investment, whichever is greater.
In a nutshell, the article argues that it may now be tax advantageous for entrepreneurs to realize their profits in the form of long-term capital gains instead of ordinary income because they can exclude from federal income tax 100% of the gain from the sale of qualified small business stock.
LLCs, S-Corps, and C-Corps each offer different advantages and restrictions, and choosing poorly can lead to expensive and difficult changes down the road. There are many complexities and issues to consider and no one right answer. Just as people shouldn't decide to have children for the tax benefits, we advise founders to not view tax considerations in a vacuum when choosing the legal structure for their businesses.  They need to think hard about the long term goals for the business and seek expert advice on the optimal legal structure.
You can, however, reduce the number of future headaches (and possibly legal bills) if you choose the structure that is most appropriate for both your current situation and your long-term objectives.  Aside from avoiding personal exposure to business liabilities, the main considerations when choosing from among the three structures are tax consequences and corporate governance issues. 
We ourselves have invested in both C's and LLC's, and have found the defined governance structure of a C-corp is almost always preferable.  For a more expansive view of our thinking on the subject, we recommend you check out our 2010 white paper, To LLC or Not to LLC.
August 6, 2018
Regular readers know that we've often covered the limits of decision models, the importance of chemistry, and what makes a team work well together.  And that we're baseball fans (especially of our Rays).
A recent review of "Astroball" in The Wall Street Journal. covers that same ground with the terrific story of the 2017 World Series champs.  Astros GM Jeff Luhnow figured out how to get scouting and analytics to work together and combine that with team building to go from last place to World Series champs in 3 short years.
It was no easy task, "(B)ut it was done, and the team made a series of sound, even brilliant, choices as it drafted, traded and signed players."
An excerpt:
This roster-creation, all by itself, did not bring home the championship. Building an exceptional team is one thing, but making it work as a team is another. "Fault lines" exist in all complex organizations—including baseball teams. If these lines can be bridged or eradicated, a team is likely to win more ball games. To use another bit of old-fashioned terminology, a team needs chemistry.
Carlos Beltrán, the veteran outfielder signed by the Astros after the 2016 season, immediately took on the role of chief chemist. Among other things, he created a postgame ceremony that awarded prizes for excellence in the field and instituted a postgame "court" for those who failed to attend: The fine was $500. Mr. Beltrán also had a singular ability to study opposing pitchers and determine their "tells"—gestures and small changes in behavior that signaled whether or not the next pitch would be, for example, a breaking ball or a fast ball. Finally, Mr. Beltrán had a strong desire to close the gap between the English and Spanish speakers.
His biggest ally in this quest was Alex Bregman, who professed to speak perfect Spanish. In fact, it was far from perfect, but Mr. Bregman worked hard to communicate with his Spanish-speaking teammates, including going out of his way to befriend first baseman Yuli Gurriel, who joined the team in 2016 after coming to the United States from Cuba and who spoke no English at all. Mr. Gurriel was exactly the sort of player who can become isolated and resentful in many American clubhouses. But Mr. Bregman refused to let that happen. As Mr. Reiter explains, "The two yammered at each other in Spanglish all day long."
Add to all this the signing of pitcher Justin Verlander, acquired during the 2017 season, and a dash of good luck, and there's no reason why any of us should have been surprised that the Astros won their World Series right on schedule. Mr. Reiter's superb narrative of how the team got there provides powerful insights into how organizations—not just baseball clubs—work best.
We have previously suggested  that in baseball there's just a slight correlation between more analytics and more success.  It remains tough to eliminate the usefulness of having more money than other clubs, and with technology and best practices so widely disseminated and articulated (in baseball, at least) the early Moneyball advantages may have been arbitraged away.  So excellent teamwork or a hot stretch of cluster luck can make the difference.
The fan inside us is fascinated by new thinking on the topic, and the prospect of advantages to be gained in the short term, but over the long term our conclusion remains the same:  big data may help make accurate predictions or guide knotty optimization choices or help avoid common biases, but it doesn't control events.  Models are useful in predicting things we cannot control, but for those in the midst of the game – players or entrepreneurs – the results have to be achieved, not just predicted.
June 28, 2018
The latest addition to The Library in St. Pete is Thinking in Bets – Making Smarter Decisions When You Don't Have All the Facts,  authored by Annie Duke, the professional poker player who began her career when, at age 26, she quit the cognitive-psychology doctoral program at the University of Pennsylvania.  The Wall Street Journal review of her book calls it "the dissertation she never got around to finishing."
Ms. Duke writes that "our brains weren't built for rationality" and "they aren't changing anytime soon" so decision-makers have to "figure out how to work within the limitations of the brains we already have."
As with many of our irrationalities, how we form beliefs was shaped by the evolutionary push toward efficiency rather than accuracy.  Abstract belief formation (that is, beliefs outside our direct experience, conveyed through language) is likely among the few things that are uniquely human, making it relatively new in the scope of evolutionary time. (p.51)
Duke maintains that the highest-level performers in any field have developed habits to compensate for cognitive biases and unconscious habits.
Among her recommendations are organized skepticism and truth-seeking accountability groups, as well as assorted forms of "mental time travel":  backcasting, premortems, Ulysses contracts, and moving regret in front of a decision.
The WSJ review nicely summarizes Ms. Duke's thesis:
Ms. Duke suggests recasting our judgment calls as bets. "We don't win bets by being in love with our own ideas," she writes. "We win bets by relentlessly striving to calibrate our beliefs and predictions about the future to more accurately represent the world." Thinking about choices this way brings with it a profound attitudinal shift, from binary right-wrong thinking to a "probabilistic" approach, in which we choose "among all the shades of grey." This reframing has a clarifying effect. "The more we recognize that we are betting on our beliefs (with our happiness, attention, health, money, time, or some other limited resource)," Ms. Duke writes, "the more we are likely to temper our statements, getting closer to the truth as we acknowledge the risk inherent in what we believe."
Moreover, when we state our judgments circumspectly in the form of a bet, we are more inclined to revise them with the arrival of new information. "When confronted with new evidence, it is a very different narrative to say, 'I was 58% [certain] but now I'm 46%,' " writes Ms. Duke. "That doesn't feel nearly as bad as 'I thought I was right but now I'm wrong.' . . . This shifts us away from treating information that disagrees with us as a threat."
She also argues that the role of skill and luck in sports and business makes it difficult to just "work backward" from outcomes to the decisions we made.
Think about this like we are an outfielder catching a fly ball with runners on base.  Fielders have to make in-the-moment game decisions about where to throw the ball:  hit the cutoff man, throw behind a base runner, throw out an advancing base runner.  Where the outfielder throws after fielding the ball is a bet.
We make similar bets about where to "throw" an outcome:  into the "skill bucket" (in our control) or the "luck bucket" (outside our control).  This initial fielding of outcomes, if done well, allows us to focus on experiences that have something to teach us (skill) and ignore those that don't (luck).  Get this right and, with experience, we get closer to whatever "-ER" we are striving for:  better, smarter, healthier, happier, wealthier, etc.
It is hard to get this right.  Absent omniscience, it is difficult to tell why anything happened the way it did.  The bet on whether to field outcomes in the luck or skill bucket is difficult to execute because of ambiguity.  …
Outcomes don't tell us what's our fault and what isn't, what we should take credit for and what we shouldn't.  Unlike in chess, we can't simply work backward from the quality of the outcome to determine the quality of our beliefs or decisions.  This makes learning from outcomes a pretty haphazard process. (p.86)
June 18, 2018
This interesting article in Health Ambition provides an excellent summary of the potentially serious risk factors of sleep apnea, which they estimate affects 26% of adults – 80% of which goes undiagnosed.
The corresponding reduction in sleep quality can lead to common symptoms in the short term such as fatigue and irritability, but over the long term the consequences could include increased risk of many serious conditions such as diabetes, high cholesterol, heart disease and stroke.
If you'd like to learn if you might be part of the undiagnosed population, our portfolio company SleepMed offers a free online preliminary sleep risk test that is quick and easy.  They also offer home- and lab- based sleep diagnostics services as well as outcomes-based sleep disorder treatments and support.
Check out the article at Health Ambition.  One of the many fascinating things we've learned since our investment in SleepMed is how critical a good 7 hours/night of sleep is to a whole range of health outcomes.
June 13, 2018
"Cryptocurrency Billionaire" Tom Draper is trying, once again, to split California; and as of this morning, his "Cal3" initiaitve has officially earned a spot on the November 6 ballot.
This time he's proposing 3 states; last time he pitched the idea it was 6.  What we said then:
These pages have often extolled the virtues of doing business in the Southeast and Texas, the best climate for entrepreneurs and where we have focused our investment efforts for over twenty years.  Along the way we may have poked gentle fun at our friends in California whenever the state's business environment fared poorly in surveys or did something like retroactively tax entrepreneurs.
So we can try to imagine the frustration engendered when a large and diverse geographic area strains under distant and schlerotic governing institutions…  Hard to see how this becomes a political reality though.
With the mood of the electorate today, anything might be possible.  But whatever one thinks of the notion, he has his work cut out for him. A May 8 article in Bloomberg points out that CA's differences run deep, making it difficult to structure the break-up in a fashion that would be politically palatable across-the-board.
***
In related news…
The Orange County Register writes that California lacks a job-friendly economic policy.  The letter Gov. Jerry Brown wrote to Amazon CEO Jeff Bezos, pleading the case for "HQ2" to be located in his state, promised a long and complicated list of incentives, breaks and assistance.
"It reads like a confession of everything California is doing to kill businesses" and "(would be) a useful list for the next governor, and for anyone who wonders why there's no gold rush of businesses moving to California."
June 12, 2018
Last month CEO Magazine produced its annual ranking of the best states in which to do business, and, as with previous surveys, our region does very well.
The best place to do business in the United States is Texas, followed by No. 2 Florida and, in a tie, No. 3 North Carolina and South Carolina, according to Chief Executive's 2018 "Best and Worst States for Business." CEOs ranked Indiana No. 5, rounding out the top five states.
The worst place is No. 50 California, bested only slightly by No. 49 New York, No. 48 Illinois, No. 47 New Jersey, No. 46 Connecticut and No. 45 Massachusetts.
Seem familiar? That's because those are the exact same positions each of these states has occupied in each of the last four years in our annual poll of CEOs about business climates.
The entire ranking includes TN & GA in the Top 10, at #6 & #7 respectively.  Those at the top tend not to change much because they have a consistent philosophy about how to approach the business climate, and they don't see significant leadership changes.  There's a similar dynamic at the bottom of the list as well:
Meanwhile, the high-tax, high-cost environments created by the bottom states also tend to be self-reinforcing. Mostly, those places are kept afloat economically by legacy advantages such as strong education and healthcare systems, as well as by the fact that in-demand, digitally skilled millennials enjoy living in their cities.
But states like Massachusetts risk eroding even those advantages as the cost of living skyrockets in big cities and traffic and other annoyances mount. … The situations of bottom feeders could get worse before they get better, in part because of a particular effect of federal tax reform on high-tax states—like the basement dwellers. "The exit numbers of companies and owners are going to be higher," McGuire says, "because people won't be able to deduct as much in property and income taxes. They're being taxed into oblivion." Also, the coasts are losing some of their perceived edge in talent and lifestyle amid sharply higher costs of living—and facing steadily increasing digital capabilities in the heartland.
"It's getting to the point now where if you're a digital marketing specialist, you can move to Nashville or Omaha and have three or four opportunities," says David Hall, vice president for investments at Revolution LLC, a Washington, D.C.-based seed fund. "Before it was so scattered. You're seeing the density of the tech and startup ecosystem build on itself and create great network effects within a region."
This is the most recent item in a long run of stories describing a geographic analog to the process of creative destruction.  Those states who spray "startupicide" on the economy –  suffocating regulations, inflated business taxes and fees, lawsuit-friendly legal environments, and political classes uninterested in business concerns, if not downright hostile to them – lose economic clout as people and capital migrate to other states with more favorable environments in which to work and live.
This migration of economic clout within the US has been more subtle than the California Gold Rush or Irish Potato Famine but is just as significant.  Some states are chasing away their earners, workers, and entrepreneurs; this is their tax base.
The growth corridors of the high-tech South would have a mercantile-like advantage but for the fact that employers can (and do!) simply move in order to thrive under our growth-oriented tax policies, lower public sector debt burdens, stronger job creation, excellent climate for entrepreneurs, and a superior overall business climate.  (The actual climate happens to be conducive to a great quality of life as well.)
Related stories:
June 19, 2017
Two stories came to our attention over the weekend:
Illinois may be the first state since 1933 to declare bankruptcy because they've chased off too much of their tax base with public policies hostile to entreprenuers, while…
Our home state of Florida has 3 of the top 20 cities in the country for tech job growth:  Orlando (6th), Jacksonville (9th) and Tampa (17th).  ZipRecruiter looked at 8 million active job postings and concluded:
The study listed tax breaks, government policies and cost of living as reasons tech companies are moving to Florida cities.
Huntsville, Ala., was first on the list.
"The tech industry is no longer bound to the coast," said ZipRecruiter's Chief Economic Adviser, Cathy Barrera. "As a result, we're seeing the tech industry expand out of the major metropolis areas, and into smaller regional cities that have since flown largely under the radar."
In The Spirit of the Laws Montesquieu posited that the invention of The Letter of Exchange was politically transforming because capital could now travel.   In his view it has always been true that:
Commerce is sometimes destroyed by conquerors, sometimes cramped by monarchs; it traverses the earth, flies from the places where it is oppressed, and stays where it has liberty to breathe.
The migration of talent and capital to the high-tech corridors of the Southeast has been more subtle than the California Gold Rush or Irish Potato Famine but is just as significant.  Some states are chasing away their earners, workers, and entrepreneurs; this is their tax base.
The growth corridors of the high-tech South would have a mercantile-like advantage but for the fact that employers can (and do!) simply move in order to thrive under our growth-oriented tax policies, lower public sector debt burdens, stronger job creation, excellent climate for entrepreneurs, and a superior overall business climate.  (The actual climate happens to be conducive to a great quality of life as well.)
© 2023 Ballast Point Ventures. All rights reserved.