Most popular posts
Other sites we recommend
After 20-plus years, thrill of the hunt continues to fuel investment firm
March 15, 2023
By:  Jim Stinson – Business Observer
Ballast Point Ventures has a knack for launching new investment funds at counterintuitive times. Opening the checkbook when others are pulling back has proven to be effective.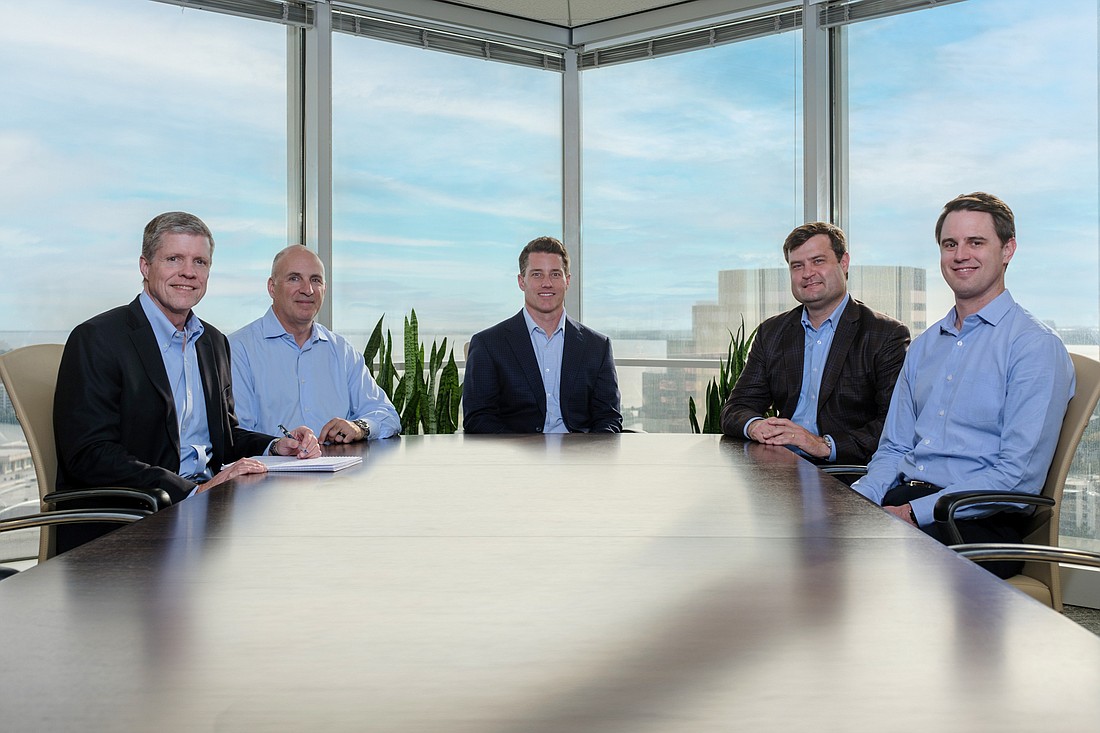 Drew Graham, Paul Johan, Matt Rice, Robert Faber and Sean Barkman have lead Ballast Point Ventures
Bottom Line
After founding Tampa-based Ballast Point Ventures in mid-2001, Paul Johan and his peers were ready to travel the country to raise money for their venture capital firm and tell their story to wealthy individuals and institutional investors. The hiccup? The economy was sagging and their initial fundraising trip was canceled because of the Sept. 11 terrorist attacks.
But Johan said the team was resolute: their firm had a story to tell, and they knew the economy in the Southeast would bounce back. It was a story they would often tell during lean times.
"We believed then, as we do today, that there is a lack of later-stage venture and early-growth capital available to companies in the Southeast and Texas," Johan says. "Also, great companies will always be able to attract capital regardless of where we are in an economic cycle."
The firm raised $56 million for its first fund in 2002. Over the following two decades, its next few funds kicked off during years economists would recognize as challenging. In 2008, as the 2008-2009 recession took deeper root, the firm kicked off its second fund, with a $140 million infusion. In 2013, as the recovery wobbled on, the firm raised $165 million for a third fund.
We're looking for entrepreneurs. We want to be active at the board level." –Paul Johan, partner at Ballast Point Ventures
And in 2021, a year after COVID-19 shut down much of the nation, Ballast Point Ventures was able to kick off its fourth fund with $190 million.
The firm's investors are a mix of "high net-worth individuals, family offices, traditional institutional investors, banks and a number of our former portfolio company executives," Johan says. (The company does not identify individual investors.)
On the investment side, Ballast Point Ventures takes funding and invests as a minority stakeholder in up-and-coming companies. The firm invests in three to five companies each year, to construct a portfolio of 18-20 companies per fund. The funds can overlap, Johan says.
A big part of the company's strategy is the hunt.
The hunt for investors is a bit easier, while the hunt for investment targets is more intensive. It scouts for new Southeast and Texas companies with at least $3 million in annual revenue and a potential to do much more, Johan says. Another attribute is high-gross margins, especially if there is not a lot of profit.
"We're looking for entrepreneurs," Johan says, adding that the company eschews passive investing but also rejects micromanaging. "We want to be active at the board level."
The firm is assisted by trusted friends in banking and the legal community, who often pass the firm's contact information on to clients looking for investors. The recommendation from trusted financiers and attorneys signals trust to a new entrepreneur, Johan says.
But the firm does not dive in. The courtship can last two to three years before a substantial investment is made.
Word-of-mouth introductions and working the Rolodex has led Ballast Point Ventures to find companies such as Symphonic Distribution, a Tampa company founded in 2006 by Jorge Brea. Symphonic Distribution is an independent music distribution and marketing company that connects artists with online music companies such as Spotify and YouTube.
Johan says the investment in Symphonic Distribution was one example of success he tells investors about. It also shows that not all digital companies start in San Francisco and Silicon Valley.
Another example comes from Prepaid Technologies, a Birmingham, Alabama-based prepaid digital payments company. Johan says Ballast Point Ventures invested $5 million in it, back in 2016.
"Revenue grew nine times from our investment to when they completed a recap with Edison Partners in 2021," Johan says. "We worked with the leadership team to grow the team from nine employees in 2016 to approximately 50 in 2021."
And there's SkuVault, a Louisville-based inventory management and warehouse-management solutions provider. Ballast Point led a 2018 Series A financing round for the company, which U.K.-based Linnworks acquired in September 2022. "Our capital helped grow SkuVault to over 100 employees at the time of the exit," Johan says.
The launch of a new fund means Ballast Point Ventures has to face its usual challenges, the main one being finding "quality investments that meet our criteria," Johan says. Industries are diverse, as Ballast Point Ventures looks at oil, digital companies, real estate and more.
A typical fund creation will mean evaluating as many as 600 companies, Johan says, with only three to five getting investments per year.
The regional focus of Ballast Point Ventures has proven to be less of a challenge than anticipated, thanks to recent economic trends. Florida, Texas and the Southeast were already seeing a steady rise of migration from other states. COVID-19 accelerated that flow of people, even if investment still favors California and the Northeast — for now.
"We still believe the Southeast and Texas are underserved by investment capital," Johan says.