Most popular posts
Other sites we recommend
Monthly Archives: March 2023
March 15, 2023
By:  Jim Stinson – Business Observer
Ballast Point Ventures has a knack for launching new investment funds at counterintuitive times. Opening the checkbook when others are pulling back has proven to be effective.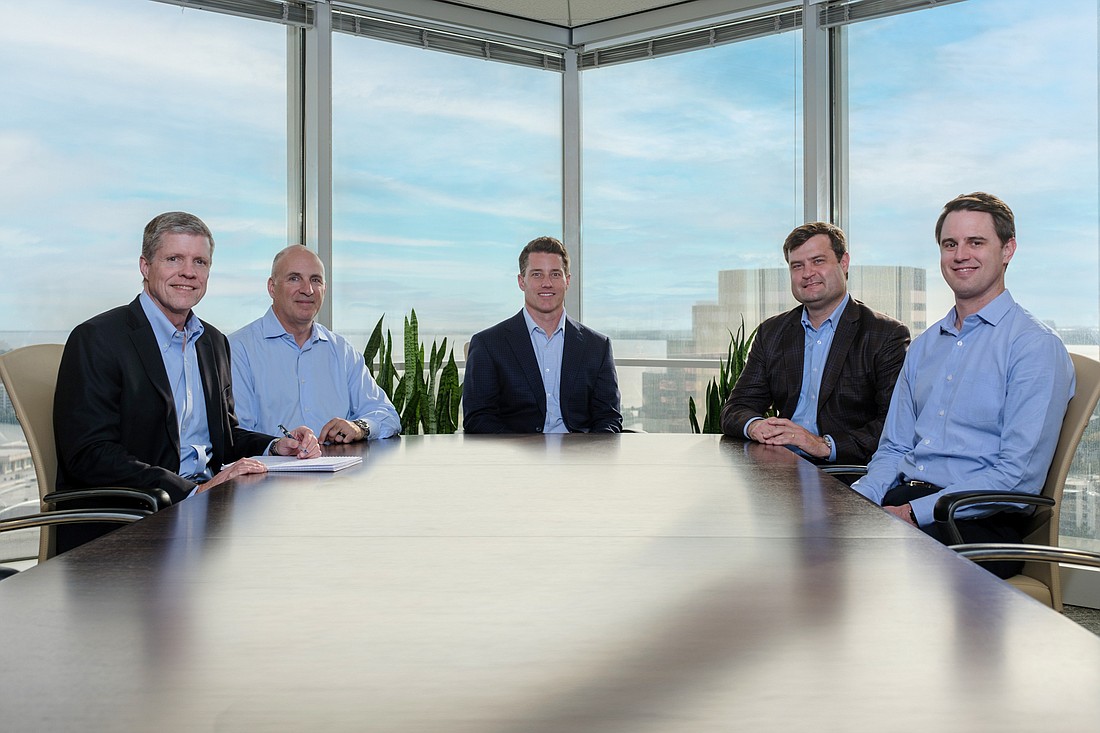 Drew Graham, Paul Johan, Matt Rice, Robert Faber and Sean Barkman have lead Ballast Point Ventures
Bottom Line
After founding Tampa-based Ballast Point Ventures in mid-2001, Paul Johan and his peers were ready to travel the country to raise money for their venture capital firm and tell their story to wealthy individuals and institutional investors. The hiccup? The economy was sagging and their initial fundraising trip was canceled because of the Sept. 11 terrorist attacks.
But Johan said the team was resolute: their firm had a story to tell, and they knew the economy in the Southeast would bounce back. It was a story they would often tell during lean times.
"We believed then, as we do today, that there is a lack of later-stage venture and early-growth capital available to companies in the Southeast and Texas," Johan says. "Also, great companies will always be able to attract capital regardless of where we are in an economic cycle."
The firm raised $56 million for its first fund in 2002. Over the following two decades, its next few funds kicked off during years economists would recognize as challenging. In 2008, as the 2008-2009 recession took deeper root, the firm kicked off its second fund, with a $140 million infusion. In 2013, as the recovery wobbled on, the firm raised $165 million for a third fund.
We're looking for entrepreneurs. We want to be active at the board level." –Paul Johan, partner at Ballast Point Ventures
And in 2021, a year after COVID-19 shut down much of the nation, Ballast Point Ventures was able to kick off its fourth fund with $190 million.
The firm's investors are a mix of "high net-worth individuals, family offices, traditional institutional investors, banks and a number of our former portfolio company executives," Johan says. (The company does not identify individual investors.)
On the investment side, Ballast Point Ventures takes funding and invests as a minority stakeholder in up-and-coming companies. The firm invests in three to five companies each year, to construct a portfolio of 18-20 companies per fund. The funds can overlap, Johan says.
A big part of the company's strategy is the hunt.
The hunt for investors is a bit easier, while the hunt for investment targets is more intensive. It scouts for new Southeast and Texas companies with at least $3 million in annual revenue and a potential to do much more, Johan says. Another attribute is high-gross margins, especially if there is not a lot of profit.
"We're looking for entrepreneurs," Johan says, adding that the company eschews passive investing but also rejects micromanaging. "We want to be active at the board level."
The firm is assisted by trusted friends in banking and the legal community, who often pass the firm's contact information on to clients looking for investors. The recommendation from trusted financiers and attorneys signals trust to a new entrepreneur, Johan says.
But the firm does not dive in. The courtship can last two to three years before a substantial investment is made.
Word-of-mouth introductions and working the Rolodex has led Ballast Point Ventures to find companies such as Symphonic Distribution, a Tampa company founded in 2006 by Jorge Brea. Symphonic Distribution is an independent music distribution and marketing company that connects artists with online music companies such as Spotify and YouTube.
Johan says the investment in Symphonic Distribution was one example of success he tells investors about. It also shows that not all digital companies start in San Francisco and Silicon Valley.
Another example comes from Prepaid Technologies, a Birmingham, Alabama-based prepaid digital payments company. Johan says Ballast Point Ventures invested $5 million in it, back in 2016.
"Revenue grew nine times from our investment to when they completed a recap with Edison Partners in 2021," Johan says. "We worked with the leadership team to grow the team from nine employees in 2016 to approximately 50 in 2021."
And there's SkuVault, a Louisville-based inventory management and warehouse-management solutions provider. Ballast Point led a 2018 Series A financing round for the company, which U.K.-based Linnworks acquired in September 2022. "Our capital helped grow SkuVault to over 100 employees at the time of the exit," Johan says.
The launch of a new fund means Ballast Point Ventures has to face its usual challenges, the main one being finding "quality investments that meet our criteria," Johan says. Industries are diverse, as Ballast Point Ventures looks at oil, digital companies, real estate and more.
A typical fund creation will mean evaluating as many as 600 companies, Johan says, with only three to five getting investments per year.
The regional focus of Ballast Point Ventures has proven to be less of a challenge than anticipated, thanks to recent economic trends. Florida, Texas and the Southeast were already seeing a steady rise of migration from other states. COVID-19 accelerated that flow of people, even if investment still favors California and the Northeast — for now.
"We still believe the Southeast and Texas are underserved by investment capital," Johan says.
March 9, 2023
New instrument provides greater sensitivity to enable additional applications for discovery and characterization of novel therapeutics with unrivaled throughput and efficiency
Carterra Inc., the world leader in innovative technologies enabling high-throughput biology, launched its latest HT-SPR instrument, the LSAXT, at the Society for Laboratory Automation and Screening (SLAS) Conference and Exhibition in San Diego, CA. The LSAXT brings augmented sensitivity to Carterra's highly successful LSA platform enabling additional applications throughout drug discovery and development at throughput levels unseen in any other instrument. Carterra will be showcasing the new LSAXT platform for high-throughput SPR at the SLAS event (booth 2127) with a launch program that includes a user presentation by Dragonfly Therapeutics on February 27 at 2:00 pm.
The LSAXT instrument boasts additional hardware and software features that build upon the capabilities of Carterra's original and highly successful LSA instrument while maintaining its impressive throughput and sample efficiency. The LSA delivers 100 times the data in 10% of the time-to-answer and uses 1% of the sample required by other label-free platforms. The LSAXT enables an expanded range of applications that include some of the most exciting and growing areas in drug discovery such as proteolysis-targeting chimeras (PROTAC®s), membrane proteins, DNA-Encoded Library (DEL) compounds, and rapid kinetic systems such as cytokines, protein-protein inhibitors, and Fc gamma receptors. Additionally, the increased performance in the LSAXT allows measurement of lower molecular weight analytes including kinase inhibitors.
Since its launch in 2018, Carterra's LSA antibody discovery and characterization platform has penetrated 19 of the largest 20 pharmaceutical companies, CROs, and biotechs on four continents. Characterizing binding kinetics and epitope coverage of large numbers of antibodies early in the drug discovery process has been transformative. The speed at which antibodies can now be identified and characterized as candidate therapeutics has vastly improved compared to traditional methods. The LSA platform has been profiled in multiple Science, Nature, and Cell peer-reviewed papers, one of which profiled the development of a novel monoclonal antibody therapeutic, bamlanivimab, which was the world's first COVID-19 therapeutic and the fastest biologic ever to reach clinical trials thanks to Eli Lilly and AbCellera.
At SLAS, scientists from Dragonfly Therapeutics will discuss the benefits of running the Fc gamma receptor (Fc?R) binding application which is a critical component of ADCC, ADCP, and CDC and an important feature to measure in Fc-containing molecules. Data will be presented showcasing the ability to characterize a full panel of biotinylated Fc?Rs now possible with the Carterra LSAXT's throughput and greater flexibility, resulting in significantly faster time to results and sample efficiency than currently available 8-channel biosensor instruments in the market.
Speaking about the launch of the LSAXT at SLAS 2023, Christopher Silva, Vice President of Marketing and Product at Carterra added, "This is a great day for biologics discovery scientists and for Carterra.  You always run the risk of missed expectations when you launch a follow-on product after a game changer like the LSA.  But we've proved that with the LSAXT the story only gets better for us and our customers."
March 8, 2023
By:  Vickie Chachere – Florida Trend
Jorge, left, and Julio Brea of Symphonic Distribution   
Photo:  Zaccardo/Rick Visuals Inc.
Jorge and Julio Brea were just little boys when their family immigrated from the Dominican Republic to Tampa in the early 1990s. As teenagers growing up at the dawn of digital age, they loved both music and technology, and they figured out a way to bring the two together.
Jorge didn't play an instrument, but he could compose electronic dance music on his computer and by 16 was working as a DJ and producer, going on to release original music and remixes. When he got the entrepreneurial "itch," Jorge started uploading mp3 files of his music on Myspace, and by his own account was making $100 a day. He turned to helping other artists do the same in the rapidly emerging digital world of music distribution.
In 2006, with no venture capital or outside funding, he founded Symphonic Distribution out of his parent's home, a company that made it easier for music creators to reach as many outlets and as wide an audience as possible, along with providing marketing, rights management and other services. Julio joined him in the company as did Jorge's wife, marketing executive Janette Berrios. Their roster of artists eventually expanded to more than 100 in a range of genres, from Latin to electronic and country to classical.
Independent artists can't just call up streaming services like iTunes and Spotify and ask them to carry their music, so Symphonic Distribution developed proprietary technology that allows artists to distribute music, videos and ringtones through one of the largest global networks of digital partners. And even though Tampa isn't a city most associate with the music industry, Symphonic Distribution's presence expanded to Africa, Brazil, Colombia, the Dominican Republic, Mexico and Spain, and the company's innovative team — now numbering 145 employees — attracted music industry veterans.
The family's technological know-how has been a perfect match for an industry where streaming and social media have become dominant forms of music distribution, and where independent artists alternately have unprecedented opportunities but also barriers as big tech companies like Apple and Amazon and the three major labels — Universal Music Group, Sony Music Entertainment and Warner Music Group — put up roadblocks to reaching audiences. Jorge Brea made Billboard Magazine's Indie Power Players list in 2018 and has stayed there since.
Early in 2022, after raising $37 million from Philadelphia's NewSpring Capital and Tampa's Ballast Point Ventures, Symphonic Distribution acquired Nashville-based marketing agency Streaming Promotions and joined with a division of Canada's Higher Reign Music Distribution, which not only allows it to expand its presence but puts Symphonic on an entirely new level within the industry. For a company that had grown steadily and quietly in Tampa — along the way drawing on local resources and business development expertise from resources like Florida's Small Business Development Centers — there was one last hometown hill to conquer. In January, Symphonic Distribution was recognized with the Alliance of M&A Advisors Tampa Bay Chapter's Deal of the Year Award.
I can tell you firsthand that the selection process was more competitive than might be obvious. I was honored to serve as a judge for this year's competition and was astounded at the complexity and the impact of the deals put before us. Florida has always had a strong entrepreneurial streak, but the deals vying for this year's award reflect two very important features about the strength of midmarket mergers and acquisitions: The ability of homegrown companies to take the leap to the next level and the interest of outside firms, including multinationals, in acquiring the thriving businesses born here. The community is doing something right when those two things happen with frequency and scale.
The two other finalists for the award were Millian Aire Enterprises, a family-owned commercial and residential heating, ventilation and air-conditioning company that was acquired by Ontario-based global facilities management firm BGIS, and Lake Michigan Credit Union's acquisition of Tampa-based Pilot Bank. In all three cases, the deals are producing hundreds of high-wage jobs in the area.
As for Symphonic Distribution, the creativity and artistry keeps flowing in big and small ways. In addition to its major moves, it also is partnering with platforms like Pinterest to add music clips to posts. The same week we celebrated with Symphonic at the Deal of the Year Awards (Florida Secretary of Business and Professional Regulation Melanie Griffin and Tampa Mayor Jane Castor joined in the honors), the company announced a music video distribution partnership with Canela Media, a leading Spanish-language streaming service. The Brea brothers leave little doubt that they're just getting started on a steady drumbeat of success.