Most popular posts
Other sites we recommend
Monthly Archives: July 2020
July 29, 2020
By:  Haley Cawthon
Source:  Louisville Business First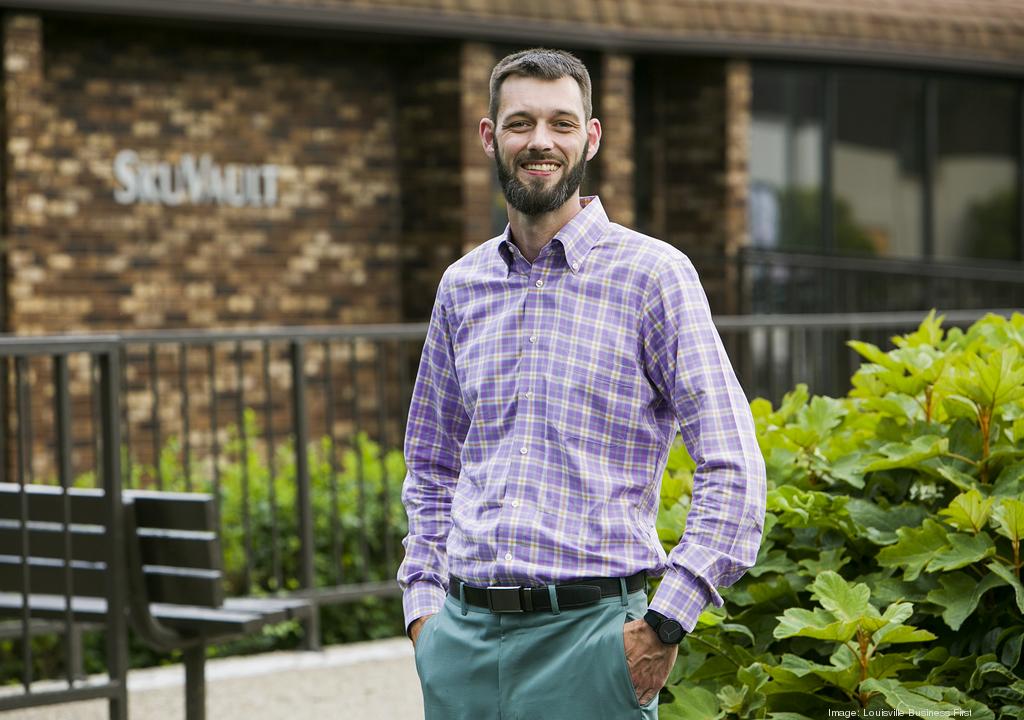 Andy Eastes, co-founder and CEO of SkuVault, poses for a portrait                                                                      at the company's East Louisville office.
Some people in the startup world call it the hustle. Others call it the grind.
No matter what you call it, Andy Eastes has been doing it since middle school.
Like many kids his age, Eastes started mowing lawns to make a few extra bucks. But what he really loved was selling odds and ends on e-Bay.
"I'd look at estate sales, yard sales, police auctions, my friends' parents' garages, attics and basements — whatever random things I could find," he said.
Eastes was usually working a part-time job, too. At 14, he got his first job as a busboy for Mazzoni's Oyster Café (where Queen of Sheba is now) on Taylorsville Road — being so young that he had to get his parents to sign a paper for him.
That unwavering work ethic stuck with Eastes, which ultimately led him to bootstrap his own business venture while still in college. Years later, that business, SkuVault, has become one of Louisville's fastest-growing companies with nearly $6 million in revenue in 2018.
Eastes went to the University of Louisville's Speed School for industrial engineering, a major he thought he'd be interested in because it combined business and engineering.
"I was not as math and science-y as I thought I was — it was a different level of math I guess — but I did it," he said.
Well, he almost did it. Halfway through his senior year, Eastes dropped out. But we're getting ahead of ourselves.
Taking inventory
During his time at the Speed School, Eastes said he interned at a copper bar fabrication plant in rural Kentucky.
"That was my first understanding of these large companies that were paying millions of dollars for software systems that didn't work for them," he said. "They were using some big Oracle-based system and their salespeople put orders in it, but they had built a patchwork of other systems in Microsoft Access to run their day-to-day operations."
As a solution to the that issue, Eastes built his first inventory system at age 21.
"As it turns out, they were late on all of their orders because they didn't track their inventory, so they didn't know what to buy and didn't have the metal they needed when it came time to build the orders," Eastes said. "Pretty simple problem, really, just track what you have and you can order more."
In 2010, Eastes's junior year of college, one of his friends asked him to help find an inventory-management system for their growing e-commerce business. He searched for a solution for two or three months but couldn't find one.
So he built one, in partnership with Slav Ivanyuk. They didn't know it at the time, but they ended up building the first version of SkuVault in a year and a half and ended up selling it to another company in Ontario, California.
"We thought, 'Hey, why did we have to build this? There must be a hole in the market,'" Eastes said.
Eastes and Ivanyuk created a web-based version of their platform and launched it in late 2012, founding SkuVault in the process.
All the while, Eastes was still trying to finish school. He said he realized he needed to 100% commit to school or his business and ultimately decided to drop out.
"My thought process was, 'I can always go back to school, but this opportunity is now; it probably won't be here in a year,'" he said.
To fund the business, the duo did small, one-off development projects and Eastes ended up with a bunch of credit card debt. It was hard, but necessary, to build the system when it needed to be built — meaning, before someone else recognized the opportunity.
July 28, 2020
PowerChord, Inc. Promotes William "Bill" Volmuth to Company CEO
On the heels of milestone announcements including a rebrand and new SaaS platform features, PowerChord promotes company President to CEO
PowerChord , a leading SaaS solution company connecting brands to local customers, today announces William "Bill" Volmuth's promotion from president to CEO. Volmuth joined PowerChord as president in July 2019 and has propelled the company's vision and mission forward over the last year, most recently leading a company-wide rebrand.
Volmuth is a veteran business and technology expert with more than 25 years of experience driving growth at software, engineering, and cybersecurity organizations across North America, Europe and Asia. As CEO, he will continue to focus on continuing PowerChord's forward momentum in driving local lead generation for global brands via the company's proprietary SaaS platform, coupled with digital marketing services to drive lead generation and content distribution.
"Leading PowerChord's innovative and driven team for the last year has been one of the greatest privileges of my career. Together, we've taken the company's platform and services to the next level, both by further optimizing local lead generation for our customers, and enhancing our platform reporting and visibility. I'm humbled and excited to take on the role of CEO and continue the momentum we have built together," said Volmuth.
Earlier this month, PowerChord announced updates to its SaaS platform including the pilot of new visualization for the Command Center, availability in five languages: English, Spanish, German, French and Italian, a new library of website design components optimized for lead generation, and an integration with Zapier to open the door to thousands of third-party software integrations a customer might need, such as integrating the platform with a brand's CRM.
"As President, Bill has been instrumental in aligning the strategic and operational needs for our future growth. His ability to build teams and empower them to collaborate and innovate at a high level is evidenced in the strong momentum seen within our PowerChord Platform. Decisiveness, empowerment and vision are critical in today's marketing and technology space and with Bill taking on the new role of CEO, he brings a refreshing mix of all these attributes and more to PowerChord's future," said Patrick Schunk, PowerChord's Founder and Chairman of the Board.
"We are thrilled at Bill's promotion from President to CEO of PowerChord," commented Ballast Point Ventures' Robert Faber.  Faber continued, "We have admired Bill's technology and management acumen for a number of years, and we are excited that he will be leading one of Tampa Bay's most promising technology companies."
PowerChord currently has several positions open in St. Petersburg. For more information about the company and joining the team, visit www.powerchord.com .
 About PowerChord:
PowerChord makes it easy for brands distributing high-consideration products through independent dealers to remain competitive in an evolving digital landscape through local lead generation campaigns that are scalable and consistent across the brand. PowerChord's proven SaaS platform and omnichannel digital marketing solutions help brands and local retailers reach more people online and follow the sales journey to convert them into customers. Analytics and insights provide transparency brands have never had before to increase local sales opportunities online through local dealer networks.
Founded in 2001, PowerChord's customers and campaigns span 28 countries and the platform powers more than 15,000 local retailer website experiences worldwide. For more information, visit www.powerchord.com .