Most popular posts
Other sites we recommend
New addition to The Library in St. Pete
May 30, 2019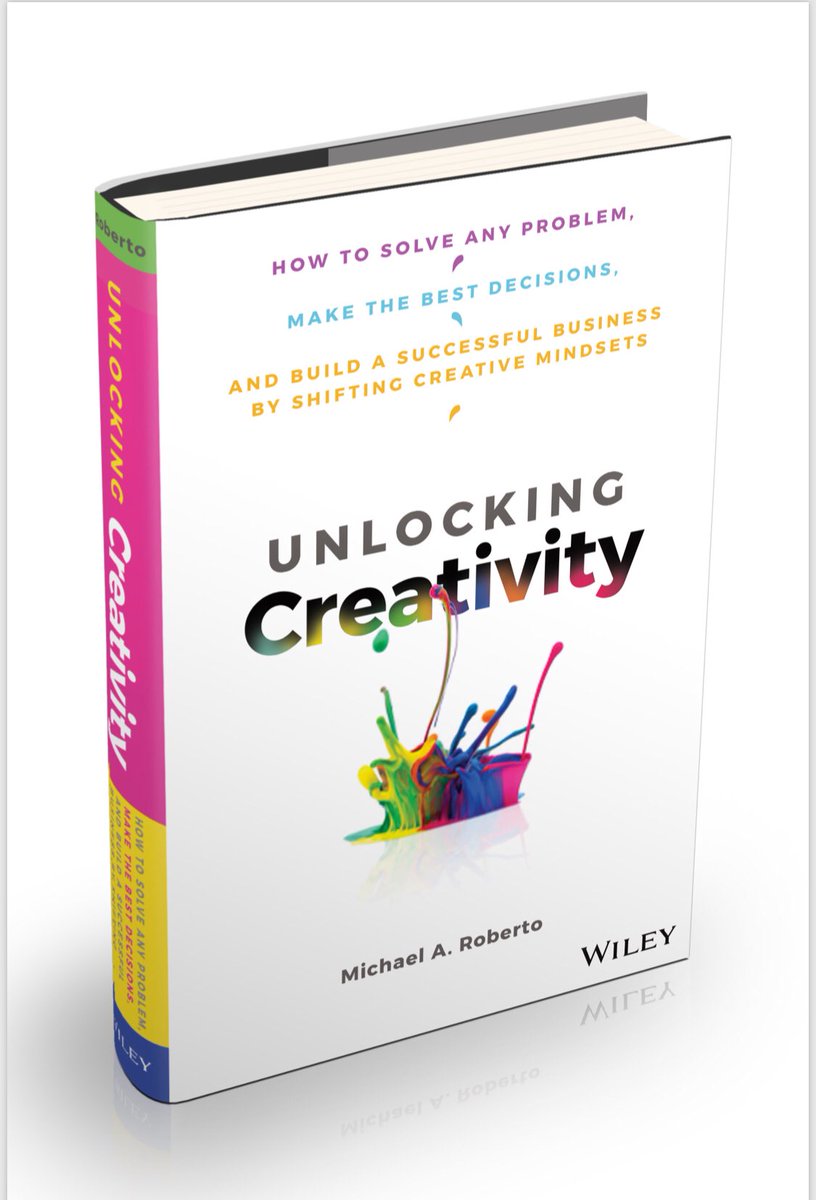 The latest addition to The Library in St. Pete is Unlocking Creativity – How to Solve Any Problem and Make the Best Decisions by Shifting Creative Mindsets, authored by Michael Roberto. As his interview in Forbes magazine explains, creativity doesn't typically come from the lack of ideas, but from barriers in organizations that stifle creative thinking.
This is the 3rd of Professor Roberto's books to join our library, and the first one for which you can find both a brief introduction and a trailer for the book at Youtube.
From among the many terrific insights in the book, we'd like to highlight two:
1 – Shaping team climate is more important than an "obsession" with reorganizations (p. 94-98).  
(H)e presumed that organizational structure drives performance, as many business leaders do. Unfortunately, that causal link is much more complex than many executives realize, as the studies of mountain climbers and sports teams illustrate. Leaders can adopt a variety of organizational structures, and each comes with its own costs and benefits. We cannot simply crank up an algorithm and select an optimal structure that promotes creativity, innovation, and growth. No such perfect structure exists, no matter the strategy, industry, or circumstances…
Leaders need to think about how teams perform their work, and how they can create the conditions that will enable those groups to flourish. The best leaders pay close attention to team climate, behavioral norms and ground rules, and the design of the work itself…
Julia Rozovsky's People Analytics team collected data on 180 teams throughout Google.  She explains what they discovered:
"We thought that building a perfect team would be pretty algorithmic in nature, because at Google, we love our algorithms.  [However] What our research showed us was that it's less about who is on the team and more about how people interact that really makes the difference."
Google identified five attributes of their highest-performing teams, and "a climate of psychological safety proves to be the most important by far."
We could not agree more. As we ourselves have written, systems and processes are important but what makes a team great are the 'robust social systems' in which the members' informal modus operandi ensure that all those well-designed systems function properly.
2 – It can take time for creativity to pay dividends (p. 172).
Remember, though, that many creative breakthroughs occur when individuals make connections between seemingly disparate concepts. Those links and relationship s may not become apparent overnight. Sometimes, it seems as though these breakthroughs are simply the product of luck. On the contrary, Harvard scholar Ethan Zuckerman argues that, "Engineering serendipity is this idea that we can help people come across unexpected but helpful connections at a better than random rate."
Here too, we are in agreement, having echoed this line of thought many times. The difference between luck and serendipity is that the latter involves seeing meaningful combinations where others do not and is a skill one can develop. 
Some organizations are "luckier" than others because they tolerate an optimal degree of wastefulness based on the assumption that serendipity relies on loafing and savoring the moment, of wandering and loitering and directionless activity of all sorts. Serendipity is a close relative of creativity and can be encouraged by a few organizational factors.
Lest anyone think we've given too much aid and comfort to sloth, inefficiency, and other bad habits, we'll close with Gary Player's thoughts on the subject:  "The harder I work, the luckier I get."
***
NB:  We'd like to thank the good professor for comparing venture capitalists to Soviet planners (p.80). We've actually known and admired Professor Roberto for a long time, and in fairness to him, he is merely quoting an entrepreneur.  (Ahem, while not objecting…)
Here are a few other instances where we've cited the professor's thinking here at Navigating Venture: