Most popular posts
Other sites we recommend
Category Archives: Uncategorized
April 1, 2021
Source:  BuisinessWire
PaceMate™, the leading digital healthcare company in compliant cardiac data management, is pleased to announce a recent $8 million Series A investment led by Ballast Point Ventures. PaceMate™'s fully automated, bidirectional EHR-integrated platform—PaceMate™LIVE—is a comprehensive, cloud-native cardiac data management solution, delivering round-the-clock remote monitoring service, customized alerts and automated billing codes. PaceMate™ will use this investment from Ballast Point to expand market reach for PaceMate™LIVE and enable more cardiac device clinics to care for their patients efficiently with better outcomes.
"Ballast Point's funding propels PaceMate™'s presence in the cardiac data space, making it possible to extend our reach in the cardiac monitoring market and offer our platform to additional hospital systems and device clinics"
Ballast Point Ventures, headquartered in Tampa, Florida, is a later-stage venture capital and growth equity fund founded in 2002 to provide expansion capital for rapidly growing, privately owned companies in the healthcare, software and technology-enabled business services industries. PaceMate™ is the first investment out of Ballast Point Ventures IV. "PaceMate™'s proprietary technology platform and monitoring services allow clients to improve the quality of care while leveraging existing technology infrastructure and seamlessly fitting into clinic workflows," said Matt Rice, Partner at Ballast Point Ventures. "We're excited to partner with Tripp Higgins and his team as they continue to expand the reach of this unique and innovative solution."
"Ballast Point's funding propels PaceMate™'s presence in the cardiac data space, making it possible to extend our reach in the cardiac monitoring market and offer our platform to additional hospital systems and device clinics," said Tripp Higgins, CEO of PaceMate™. "We give our customers unique digital healthcare opportunities and connect them with the most essential clinical information from their patients' EHRs in real time. With this investment, implementation of our platform can happen faster, and more cardiology clients can take advantage of our unmatched data capabilities."
About PaceMate™
PaceMate™ was founded in 2015 by cardiac rhythm management industry professionals who experienced firsthand the overwhelming amount of device data inundating clinicians on a daily basis. In answer to this ever-increasing health data problem, the PaceMate™ team developed innovative technology to streamline the device clinic, improve workflow, reduce medical errors and take better care of patients. Today, PaceMate™LIVE is a best-in-class, cloud-native software+service solution for real-time cardiac device management—supporting clinics 24.7.365. Device-generated data automatically uploads to our vendor-neutral platform for immediate review—reporting clinically actionable alerts with complete, bi-directional EHR integration. Meet us at the intersection of human intelligence, innovative data management and compassionate healthcare—where we never miss a beat.™
March 29, 2021
Thank you Tampa Bay Times – Times Publishing Co for naming PowerChord as a winner of the Tampa Bay Top Workplaces in 2021, as well as awarding us with the top work/life flexibility title! Creating a collaborative, supportive, and safe environment for our employees to learn and grow is our top priority and we couldn't be more proud of our growth this past year!
September 17, 2020
BPV is proud to report that four of our portfolio companies have been named to the Inc. 5000  list of the fastest growing private companies in America: a comparative online car insurance platform and three B2B SaaS businesses.
Congratulations to Austin's The Zebra (1st year), Dallas' Spotio (2nd year in a row), Louisville's SkuVault (4th year in a row) and Orlando's PowerDMS (10th year in a row). We're thrilled to be partnered with these great entrepreneurs!
July 29, 2020
By:  Haley Cawthon
Source:  Louisville Business First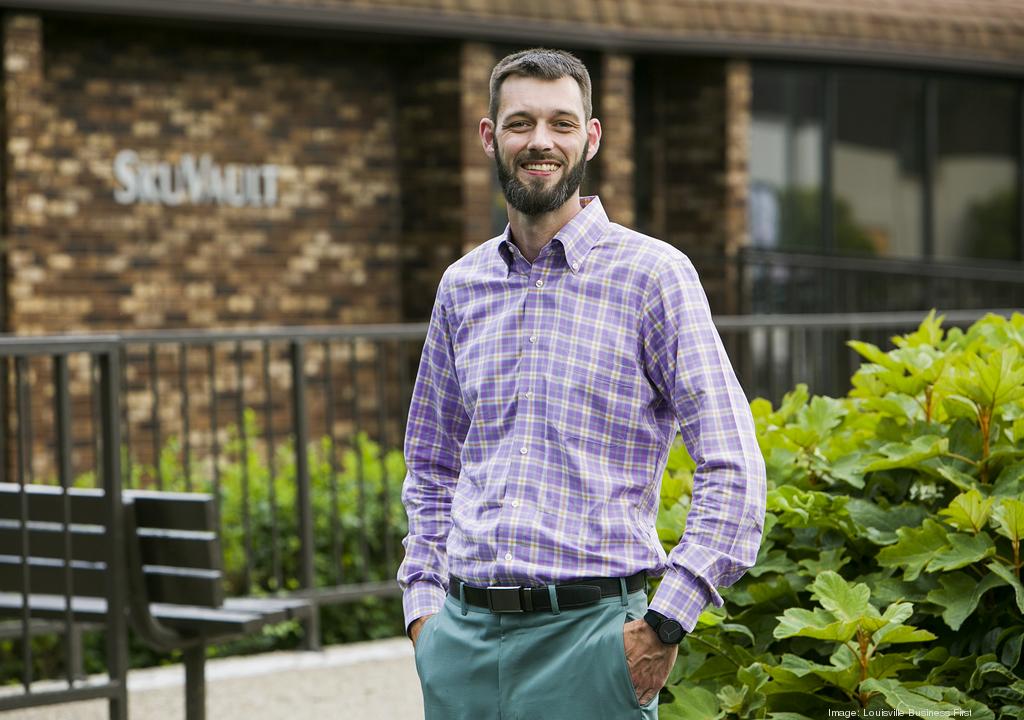 Andy Eastes, co-founder and CEO of SkuVault, poses for a portrait                                                                      at the company's East Louisville office.
Some people in the startup world call it the hustle. Others call it the grind.
No matter what you call it, Andy Eastes has been doing it since middle school.
Like many kids his age, Eastes started mowing lawns to make a few extra bucks. But what he really loved was selling odds and ends on e-Bay.
"I'd look at estate sales, yard sales, police auctions, my friends' parents' garages, attics and basements — whatever random things I could find," he said.
Eastes was usually working a part-time job, too. At 14, he got his first job as a busboy for Mazzoni's Oyster Café (where Queen of Sheba is now) on Taylorsville Road — being so young that he had to get his parents to sign a paper for him.
That unwavering work ethic stuck with Eastes, which ultimately led him to bootstrap his own business venture while still in college. Years later, that business, SkuVault, has become one of Louisville's fastest-growing companies with nearly $6 million in revenue in 2018.
Eastes went to the University of Louisville's Speed School for industrial engineering, a major he thought he'd be interested in because it combined business and engineering.
"I was not as math and science-y as I thought I was — it was a different level of math I guess — but I did it," he said.
Well, he almost did it. Halfway through his senior year, Eastes dropped out. But we're getting ahead of ourselves.
Taking inventory
During his time at the Speed School, Eastes said he interned at a copper bar fabrication plant in rural Kentucky.
"That was my first understanding of these large companies that were paying millions of dollars for software systems that didn't work for them," he said. "They were using some big Oracle-based system and their salespeople put orders in it, but they had built a patchwork of other systems in Microsoft Access to run their day-to-day operations."
As a solution to the that issue, Eastes built his first inventory system at age 21.
"As it turns out, they were late on all of their orders because they didn't track their inventory, so they didn't know what to buy and didn't have the metal they needed when it came time to build the orders," Eastes said. "Pretty simple problem, really, just track what you have and you can order more."
In 2010, Eastes's junior year of college, one of his friends asked him to help find an inventory-management system for their growing e-commerce business. He searched for a solution for two or three months but couldn't find one.
So he built one, in partnership with Slav Ivanyuk. They didn't know it at the time, but they ended up building the first version of SkuVault in a year and a half and ended up selling it to another company in Ontario, California.
"We thought, 'Hey, why did we have to build this? There must be a hole in the market,'" Eastes said.
Eastes and Ivanyuk created a web-based version of their platform and launched it in late 2012, founding SkuVault in the process.
All the while, Eastes was still trying to finish school. He said he realized he needed to 100% commit to school or his business and ultimately decided to drop out.
"My thought process was, 'I can always go back to school, but this opportunity is now; it probably won't be here in a year,'" he said.
To fund the business, the duo did small, one-off development projects and Eastes ended up with a bunch of credit card debt. It was hard, but necessary, to build the system when it needed to be built — meaning, before someone else recognized the opportunity.
July 28, 2020
PowerChord, Inc. Promotes William "Bill" Volmuth to Company CEO
On the heels of milestone announcements including a rebrand and new SaaS platform features, PowerChord promotes company President to CEO
PowerChord , a leading SaaS solution company connecting brands to local customers, today announces William "Bill" Volmuth's promotion from president to CEO. Volmuth joined PowerChord as president in July 2019 and has propelled the company's vision and mission forward over the last year, most recently leading a company-wide rebrand.
Volmuth is a veteran business and technology expert with more than 25 years of experience driving growth at software, engineering, and cybersecurity organizations across North America, Europe and Asia. As CEO, he will continue to focus on continuing PowerChord's forward momentum in driving local lead generation for global brands via the company's proprietary SaaS platform, coupled with digital marketing services to drive lead generation and content distribution.
"Leading PowerChord's innovative and driven team for the last year has been one of the greatest privileges of my career. Together, we've taken the company's platform and services to the next level, both by further optimizing local lead generation for our customers, and enhancing our platform reporting and visibility. I'm humbled and excited to take on the role of CEO and continue the momentum we have built together," said Volmuth.
Earlier this month, PowerChord announced updates to its SaaS platform including the pilot of new visualization for the Command Center, availability in five languages: English, Spanish, German, French and Italian, a new library of website design components optimized for lead generation, and an integration with Zapier to open the door to thousands of third-party software integrations a customer might need, such as integrating the platform with a brand's CRM.
"As President, Bill has been instrumental in aligning the strategic and operational needs for our future growth. His ability to build teams and empower them to collaborate and innovate at a high level is evidenced in the strong momentum seen within our PowerChord Platform. Decisiveness, empowerment and vision are critical in today's marketing and technology space and with Bill taking on the new role of CEO, he brings a refreshing mix of all these attributes and more to PowerChord's future," said Patrick Schunk, PowerChord's Founder and Chairman of the Board.
"We are thrilled at Bill's promotion from President to CEO of PowerChord," commented Ballast Point Ventures' Robert Faber.  Faber continued, "We have admired Bill's technology and management acumen for a number of years, and we are excited that he will be leading one of Tampa Bay's most promising technology companies."
PowerChord currently has several positions open in St. Petersburg. For more information about the company and joining the team, visit www.powerchord.com .
 About PowerChord:
PowerChord makes it easy for brands distributing high-consideration products through independent dealers to remain competitive in an evolving digital landscape through local lead generation campaigns that are scalable and consistent across the brand. PowerChord's proven SaaS platform and omnichannel digital marketing solutions help brands and local retailers reach more people online and follow the sales journey to convert them into customers. Analytics and insights provide transparency brands have never had before to increase local sales opportunities online through local dealer networks.
Founded in 2001, PowerChord's customers and campaigns span 28 countries and the platform powers more than 15,000 local retailer website experiences worldwide. For more information, visit www.powerchord.com .
May 11, 2020
Source:  CISION PRWeb
Orlando-based SaaS company ranks as one of the highest-scoring businesses, with standout employee engagement
PowerDMS, a leader in cloud-based policy management solutions headquartered in Orlando, Fla., has been named one of Inc. magazine's Best Workplaces for 2020.
PowerDMS was selected from thousands of companies for the prestigious award. The list is the result of a wide-ranging and comprehensive measurement of private American companies that have created exceptional workplaces through vibrant cultures, deep employee engagement, and stellar benefits.
"We're incredibly honored to be recognized by Inc. as a Best Workplace for 2020," said David DiGiacomo, CEO of PowerDMS. "We have built an organization that is committed to relationships, to growing each other and the communities we serve. Even during these difficult societal times, we have leaned on the backbone of our culture – trust, integrity, and accountability – to help each other and our business continue to thrive."
Collecting data from more than 3,000 submissions, Inc. singled out 395 finalists for this year's list. Each nominated company took part in an employee survey, conducted by Quantum Workplace, on topics including trust, management effectiveness, perks, and confidence in the future. Inc. gathered, analyzed, and audited the data. Then it ranked all the employers using a composite score of survey results. This year, 73.5 percent of surveyed employees were engaged by their work.
The strongest engagement scores came from companies that prioritize the most human elements of work. These companies are leading the way in employee recognition, performance management, and diversity.
"Building a great corporate culture comes only from strong leadership," says Inc. magazine editor-in-chief Scott Omelianuk. "The companies on Inc.'s Best Workplaces list are setting an example that the whole country can learn from, especially now, when company culture is more important to the workforce than ever."
To learn more about PowerDMS, go to http://www.powerdms.com.
About PowerDMS
Founded in 2001, PowerDMS offers a cloud-based policy, compliance, accreditation management solution that helps organizations reduce risk and liability, protect reputation, increase efficiency, and save lives. The company provides software tools to organize and manage an organization's critical documents and industry accreditation standards, and allows for training and testing of employees. PowerDMS serves customers in the private sector, public safety, government, and healthcare and has achieved significant organic growth in these markets. To learn more, go to http://www.powerdms.com.
About Inc. Media
The world's most trusted business-media brand, Inc. offers entrepreneurs the knowledge, tools, connections, and community to build great companies. Its award-winning multiplatform content reaches more than 50 million people each month across a variety of channels including websites, newsletters, social media, podcasts, and print. Its prestigious Inc. 5000 list, produced every year since 1982, analyzes company data to recognize the fastest-growing privately held businesses in the United States. The global recognition that comes with inclusion in the 5000 gives the founders of the best businesses an opportunity to engage with an exclusive community of their peers, and the credibility that helps them drive sales and recruit talent. The associated Inc. 5000 Conference is part of a highly acclaimed portfolio of bespoke events produced by Inc. For more information, visit http://www.inc.com.
About Quantum Workplace
Quantum Workplace, based in Omaha, Nebraska, is an HR technology company that serves organizations through employee-engagement surveys, action-planning tools, exit surveys, peer-to-peer recognition, performance evaluations, goal tracking, and leadership assessment. For more information, visit QuantumWorkplace.com.
September 12, 2019
Last month – August 30 – brought us National Slinky Day.  We did not know the classic toy had its own day, nor were we aware that it was another one of those happy accidents often at the heart of entrepreneurial origin stories.
From Smithsonian Magazine:
In 1943, mechanical engineer Richard James was designing a device that the Navy could use to secure equipment and shipments on ships while they rocked at sea. As the story goes, he dropped the coiled wires he was tinkering with on the ground and watched them tumble end-over-end across the floor.
After dropping the coil, he could have gotten up, frustrated, and chased after it without a second thought. But he—as inventors often do—had a second thought: perhaps this would make a good toy. A lot of inventors talk about keeping an open mind and maintaining playful habits, explains Monica Smith, the head of exhibitions at Smithsonian's Lemelson Center for the Study of Invention and Innovation.
"The Slinky was something that he saw happen and he thought it was cool. It wasn't an obvious idea for a toy," she says. "It wasn't something he was setting out for—it's more serendipitous than that. He kept an open mind and found a different use for it."
The author's description of serendipity reminds us something we once wrote: entrepreneurial genius is often a matter of seeing meaningful combinations where others do not.
Corporate managers believe that to the extent they can predict the future, they can control it. Entrepreneurs believe that to the extent they can control the future, they don't need to predict it.  Entrepreneurs thrive on contingency. The best ones improvise their way to an outcome that in retrospect feels ordained…
Thriving on contingency, outcomes that feel ordained… some could argue this conflates luck and skill.  Napoleon famously (and apocryphally) was said to prefer lucky generals over clever ones.  (He was reliably quoted on the subject thusly: "A bold general may be lucky but no general can be lucky unless he is bold.")
Recent research, this time from Harvard Business School, emphasizes the importance of serendipity as opposed to simple luck.  In  Make Serendipity Work For You  authors Mark de Rond, Adrian Moorhouse, and Matt Rogan recount an old tale about three princes from Serendip and their skills of observation and problem-solving:
The princes did far more than make chance observations. The tale is instructive because the princes relied on their ability to recombine a series of casual observations into something meaningful. And it is just this combinatorial skill — the ability to combine events or observations in meaningful ways — that differentiates serendipity from luck. Serendipity is to see meaningful combinations where others do not.
Richard James saw that "something meaningful" and used his engineering expertise to work out the ideal dimensions for the spring – 80 feet of wire into a two-inch spiral. (The exact mathematical equation for the slinky can be found in his patent materials.)
However – the true entrepreneurial mastermind and hero of the story is his wife Betty.  In addition to coming up with the name of the toy, she built the business under the most difficult of circumstances:
He [Richard] left his family in 1960 to join a religious cult in Bolivia and died there in 1974. He left behind six children between the ages of 2 and 18 and a business in shambles… Using a mortgage taken out on her house, James "gambled everything she had" and went to a New York toy show in 1963.
That was the same year the classic toy's catchy jingle aired on television for the first time.
"The reason everyone knows the jingle," her son told the Philadelphia Inquirer, "is that we were too broke to buy a new one. We burned it into the mentality of the country."
It is indeed a long journey from idea to viable business. Even if you change the world it can take years to succeed and get noticed.
One last fun fact about how innovation can spark more innovation:
During the Vietnam War, soldiers would sometimes use a Slinky as a portable, extendable antenna for their radios, fastening one end to themselves and tossing the other end over a tree branch to get a clear signal.
August 29, 2019
Source:  Tampa Bay Inno
By:  Dyllan Furness
Symphonic Distribution Founder Jorge Brea. Photo courtesy of Symphonic Distribution
The music industry changes fast. In less than two decades, listeners went from buying CDs to buying downloads to paying monthly subscriptions for streaming services—all while vinyl sales surged. For independent musicians, it can be hard to keep up with the fluctuations in the industry. Symphonic Distribution wants to help.
Founded in 2006 by Jorge Brea, Symphonic is a digital music distribution and marketing company that helps indie artists reach new audiences. Headquartered in Tampa, the company's 48 employees are also based out of offices in Brooklyn, Nashville, Denver and Bogota, Colombia. Symphonic has worked with artists as diverse as reggaeton artist Daddy Yankee, EDM producer Marshmello and country singer Scotty McCreery. Last year, the company made $14 million in revenue.
Back in the day, the only way to get your music heard by a broad audience was to go through major record labels. But times have changed.
"The music industry has become so democratized that you don't have to go down that route of being signed to a major [record label]," said Brea, who was recognized by Billboard magazine as an Indie Power Player in 2018 and 2019. "You can work with a company like ours, and we'll help get your music out there."
Major record labels have seemingly inexhaustible resources to spend on promotion, but working with an independent distributor like Symphonic means artists typically still control their rights and earn a higher percentage of their royalties.
Symphonic offers clients a "360 experience," according to Brea, which includes services such as music video distribution, post-production work and marketing to help elevate their products. It helps place music on platforms such as Apple Music, Spotify, Pandora and YouTube, charging a standard rate of 15%, meaning artists keep 85% of their royalties. Each deal can be customized depending on the artist's situation.
Brea first launched Symphonic to distribute his own songs. As a local electronic DJ and producer, he couldn't afford to cut vinyl and CDs, so instead he turned to digital distribution, found some success and started offering the service to other artists.
In recent years, major record labels have caught on to the value of independent, boutique-style distribution. As such, companies like Sony, Warner Music and Universal have purchased indie distribution companies like The Orchard, Ingrooves and Alternative Distribution Alliance, each of which compete with Symphonic.
However, Brea thinks that remaining truly independent gives Symphonic added value for clients, enabling the company to provide exceptional customer service and adjust to changing trends in the industry.
One way Symphonic stays ahead of the curve is by working in markets before they gain mainstream popularity on the global stage. Brea said the company's current focus is on expanding its presence in Latin America, but he is eyeing artists and opportunities in China, Russia and African countries as well.
Despite the international reach, Brea remains committed to promoting musicians in the Tampa Bay Area. In August, Symphonic hosted the fifth annual Vibes of the Bay event, an event designed to highlight local artists.
"Tampa is a great business, finance and health care market, but there isn't a big music industry here," he said. "We want to make sure that we can help artists from the Tampa Bay Area be heard."
August 22, 2019
One of our most-read posts here at NVSE is The Fate of Control (December 2009).  In it we cite a phrase coined by Fred Wilson's at AVC – "shtick tolerance" – as a key to any successful long term relationship.  As we blogged in that decade-ago December:
You don't have to accept everything about your partner – outside of integrity/honesty – but you must be able to more or less tune some things out over the long haul.  You're patient with their shtick because they're patient with yours.  It's hard work.
Fred is back with another outstanding post, once again on the subject of long term relationships. Here's an excerpt from The Long Engagement:
What I would prefer to see, and do see in many cases, is a founder who takes the time while they are not raising money to build a number of relationships with potential investors and then engages those investors in a process when it is time to raise capital. I like to call this process the "long engagement".
It might sound like a lot more work than the fast and furious fundraising process that many founders are running these days.
But I don't think it is a lot more work. Building relationships over a six to twelve month period can take the form of an occasional face to face meeting, emails back and forth, and even a few visits to the office by the investor. And none of that has to have the pressure of a pitch, an ask, and a price.
We think Fred is spot on. In most cases our relationship with an entrepreneur starts early – months or even years in advance of an investment. Ideally everyone involved has sufficient time and opportunity to explore the fit and potential of the chemistry that will prove crucial to success. Here's how we put it in a March 2013 post, Due diligence: mine, yours, and ours:
Entrepreneurs who are raising growth capital (i.e. bringing on a long term partner) as opposed to selling their businesses (i.e. get the best valuation) should invest a lot of time conducting due diligence on their prospective financial partner. A credible partner will let you (indeed, encourage you) to talk to as many of their previous entrepreneur partners as you want to get a feel for what they are like to work with.
Entrepreneurs should ask for references from successful investments, unsuccessful investments and current investments. Ask for the venture firm's entire list of previous and current investments and randomly call a number of them. Find some independent sources on your own who weren't provided as references but know the venture firm…
Establish a solid foundation for the relationship early: Will you share the same vision? Agree on ground rules?
Once the honeymoon is over, will you collectively put forth the constant effort required to sustain the relationship? How will you resolve conflict? Are communications open and largely free of clashing egos? Does the quality of the arguments make the outcomes better?
April 1, 2019
Source:  The St. Pete Catalyst
By:  Margie Manning
Lanny Tucker, CEO, PowerChord, with Stephanie Shreve, vice president of customer success, and Michelle Tipton, vice president of finance.
PowerChord, a St. Pete software company, has bested other technology companies including Google and Microsoft in one key measure.
Following several recent promotions, women account for 40% of the senior management at PowerChord, twice the percentage of female executives in leadership at Microsoft and nearly twice that of women leaders at Google.
The women and men in leadership at PowerChord have different, and complementary, thought processes, said Lanny Tucker, a tech industry veteran who was named CEO at PowerChord in 2016.
"Sometimes us men, we want to jump up and pull the trigger and a lot of action. The women in the team add a different perspective and a very valuable perspective that benefits our customer, our recruitment of personnel and our stature in the community," Tucker said.
PowerChord develops software-as-a-service that provides brand specific marketing for its clients, companies with hundreds or thousands of dealer distributors or franchisees.
Ballast Point, a Tampa growth capital and venture equity firm, invested $10 million in PowerChord in 2016, a few months after Lanny Tucker joined as CEO.
Since then, PowerChord has grown from 35 employees to almost 80, and as the company grows, it's important that female leadership grow as well, Tucker said.
"There's been study after study done. Companies that have a good gender mix have more innovation, more profitability … and they're more admired," Tucker said, citing Fortunemagazine's annual list of the world's most admired companies."Companies that are ranked the highest in that group have almost twice as many females in senior leadership positions than the less admired companies."
PowerChord announced the latest promotions last week. Michelle Tipton was named vice president of finance, and Stephanie Shreve was named vice president of customer success. Both are seven-year veterans of the company. Their promotions came two months after PowerChord named its first female vice president, Nikki Vegenski, who is vice president for marketing and strategy and also a long-time PowerChord employee.
The company named two directors as well : Nicole Clemens as director of people and culture, and Kate Dalley as director of product management.
"These are our leaders of the future. They are going to be people both with PowerChord or other companies that will take on C-level capabilities and functions in the future and we're really proud of what they do and what they stand for," Tucker said.
Meet the new members of the PowerChord leadership team
Michelle Tipton served as financial controller as well as accountant and HR specialist with PowerChord for seven years, before she was promoted to vice president of finance.
Traditionally, finance departments focus on historical performance, Tucker said. One of Tipton's goals in her new role is to use data that reflects PowerChord's past to help the company move forward.
"The past is all relevant data and it's really important to have those analytical skills and toolsets, but also how can we expand the current programs and platforms that we're using to become more of a data-driven team, to support the organization's strategies moving forward," Tipton said.
Tipton's job is taking the next big step, as artificial intelligence and data analytics are transforming the finance function, Tucker said.
"That's the predictive part, being able to look into the future with the data that we have in the past and be proactive in our decision making, as opposed to just reactive," he said.
Stephanie Shreve served as PowerChord's director of partner engagement for seven years before she was named vice president of customer success.
"My focus will be on fostering an environment of customer experience," Shreve said. "From the moment we start talking to a potential client all the way through to bringing them on board, we want to make that a smooth seamless experience, so they can then offer exceptional customer experience to their customers."
Prospective clients face a tough decision when considering taking on new business partners, Tucker said.
"That fear, doubt and uncertainty is won over by both metrics and data, it's won over by past performance and recommendations of current customers. And quite frankly, a large part is personality and trust. Trust is the most important word, and that's the hallmark that Stephanie is trying to build," Tucker said.
Nicole Clemens, the new director of people and culture, will drive key functions of human resources and business strategy with a modern perspective built upon creating a collaborative culture and ensuring equality for all employees. Since joining PowerChord in 2015, Clemens has spearheaded instituting paid paternity leave, implemented a company-wide key performance indicators and bonus program, and has coordinated culture events to engage employees.
Kate Dalley, director of product management, is dedicated to providing scalable and efficient solutions to PowerChord's local and global markets. She is also responsible for assessing ongoing industry needs to ensure the company is providing innovative and transformational SaaS services, while also continuing to define the ongoing evolution of the PowerChord platform.